News
Out soon: Dis/ability History der Vormoderne. Ein Handbuch / Premodern Dis/ability History. A Companion, eds. Cordula Nolte, Bianca Frohne, Uta Halle, Sonja Kerth (Affalterbach: Didymos, 2017).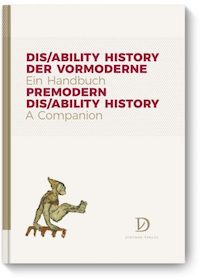 More
---
Workshop "Perspectives of Dis/ability History in an Interdisciplinary and International Context", 6th – 7th February 2016 (Delmenhorst, Hanse-Wissenschaftskolleg) More
---
Workshop "Images of Dis/ability". Disease, Disability & Medicine in Medieval Europe, 9th Annual Meeting, Bremen, 4th-6th Dec. 2015. More
---
New article: Swantje Köbsell: LeibEigenschaften - eine barrierefreie Ausstellung über den Umgang mit Beeinträchtigungen in der Vormoderne, in: Handbuch Behindertenrechtskonvention (2015). About our barrier-free exhibition on dis/ability history in Bremen, 2012.
---
New book: Bianca Frohne: Leben mit »kranckhait« Der gebrechliche Körper in der häuslichen Überlieferung des 15. und 16. Jahrhunderts Überlegungen zu einer Disability History der Vormoderne (Studien und Texte zur Geistes- und Sozialgeschichte des Mittelalters 9), Affalterbach 2014. More
---
Interdisziplinäres Ringseminar an der Universität Bremen: "Dis/ability History. Ein neuer Blick auf die Geschichte". Wintersemester 2014/15, Freitags von 10 – 12 Uhr, GW2, Raum B 2880. More
---
2014 Conference on Disease, Disability and Medicine in Medieval Europe: Infection and Long-Term Sickness. University of Nottingham, 6th/7th December 2014. More
---
Graduate Workshop on Medieval Disability, University of Nottingham, 5th December 2014. More
---
Workshop: "Dis/ability History in Dialogue with Literary Studies and Language History" hosted by PD Dr. Sonja Kerth and Dr. Heiko Hiltmann (University of Bremen). Gästehaus am Teerhof, October 10th/11th 2014. More
---
Workshop:"Dis/ability: Archaeology & Anthropology - Finds and Contexts"
hosted by Prof. Dr. Uta Halle (University of Bremen), Dr. Christina Lee (University of Nottingham), PD Dr. habil. Wolf-Rüdiger Teegen (LMU Munich). Hanse-Wissenschaftskolleg Delmenhorst, June 13th/14th, 2014. More
---
New: Phänomene der "Behinderung" im Alltag. Bausteine zu einer Disability History der Vormoderne, ed. Cordula Nolte (Studien und Texte zur Geistes- und Sozialgeschichte des Mittelalters 8) (Affalterbach: Didymos, 2013). More
---
Workshop "Dis/ability and Law in Pre-Modern Societies.
Intersections of Legal History and Dis/ability History" hosted by Prof. Dr. Cordula Nolte (University of Bremen) and Prof. Dr. Wendy Turner (Georgia Regents University, Augusta). University of Bremen, January 31st/February 1st, 2014. More
---
Workshop "Dis/ability History and Medicine. Terminology – Concepts – Models" hosted by Prof. Dr. Cordula Nolte (University of Bremen) and Prof. Dr. Dr. Ortrun Riha (University of Leipzig). Gästehaus Teerhof, September 16th/17th, 2013. More