"Lebensläufe"/Vitae
The research field "Lebensläufe"/Vitae focuses on individuals within their social structures and with regard to their (changing) affiliations, taking into account the human life cycle in pre-modern societies as well as prosopographic approaches. Contemporary concepts of individual abilities and disabilities, of competence and incompetence, as well as notions of physical and mental deviance are of paramount importance within this context. Furthermore, forms and concepts of social agency are explored with regard to their discursive impact, especially concerning argumentative, as well as coping, strategies. Thus, the field of research brings together a broad range of themes, sources, and methods. A person's physical state determined – to a certain extent – whether this person gained access to certain social groups, pursued prestigious careers, or was able to found their own household. The study of social chances and choices with regard to work, family, marriage, and household is based on the concept of intersectionality, taking into account several categories of difference, such as gender, age, and social status, as well as their respective interrelations. Only within this complex field, the category of corporeal difference can be analysed with respect to its social and biographic significance. On an interpersonal level, this approach takes into account that acting in relationships also intersects with social expectations, and with the social opportunities and barriers prevalent with regard to establishing corporeal difference.
The project "To Take Note: The Realm of the Corporeal within the Fields of Accountancy, Self-Examination, and Memory in Urban Societies of the 15th and 16th centuries"" (Cordula Nolte) brings together and expands upon two previously separated research perspectives with regard to disease, impairment, and care dependency in pre-modern societies. On the one hand, research within the fields of ego-documents, life writing, and autobiography has recently taken up aspects of the corporeal, for example by analysing utterances of the writing "self" within this context, paying special regard to family, the household, and work. On the other hand, within the history of welfare, 'public health', and poor relief, a wide range of administrative documents has been studied from the point of view of social history, economic history, and the history of medicine. Due to these different source bases, the writers' domestic sphere was mostly isolated from administrative, especially institutional, contexts. However, archival research (which was undertaken within the context of the project "Homo debilis") recently led to the discovery that a significant amount of unpublished texts has not yet been taken into account with regard to the interrelations of life writing and administrative documents. Employing the new perspective of dis/ability history, various aspects of everyday urban life can be studied in detail, such as concepts and biographic aspects of holding office, life writing and documents of practical usage ("pragmatische Schriftlichkeit"), family relations and household structures, intersections and transitions between individual agency and the urban public
In her dissertation project, "A History of Medieval Work Incapacity. The Example of Northern German Artisans 1300-1600)", Ivette Nuckel examines possible factors that could lead to a decline of the physical ability to work, such as illness, exhaustion, decrepitude, accidents or trauma/injuries, within the context of different sectors of medieval artisanry. Special attention is paid to different means of coping with these risks: safety precautions for workers, social security through fraternities or municipal institutions, poor relief, charity, or family/home care. The survey draws upon contemporary attitudes towards concepts of work and physical fitness. The analysis of written documents is therefore combined with the study of iconographical and archaeological material.
For her doctoral thesis, "Anthropological-Osteological Analysis of Sickness and Impairment in the Population of Medieval Bremen" Swantje Krause analyses osteoarchaeological material deriving from various excavations conducted by the Landesarchäologie Bremen, ranging from the 5th to the 15th centuries (including the cremated bones of about 100 individuals from Bremen-Mahndorf as well as the skeletal relics of about 110 individuals that were found in the Unserer-Lieben-Frauen-Kirche in Bremen) with special regard to the population's state of health. Initially individual biological data, such as age, gender, height, physical features, state of health and nutrition, will be collected with the help of geoscience, archaeometric research, and the scientific measures of human medicine. Subsequently, sociological and demographical methods will allow further insight into the population's biology and social structure concerning age and gender relations, infant mortality, occupational stresses and the risks of daily life. Therefore, connections with the cultural history of daily life are evident.
In her doctoral thesis, Karolina Meyer-Schilf explores the world of "Impaired Heroes. Warfare and Dis/ability in the Middle Ages" by analysing war-induced impairment according to written documents, iconographical and material sources. The main focus lies on mercenary warfare in Late Medieval Switzerland. In this context, investigating how deformity, permanent damage and injuries were perceived and dealt with in a military environment, and thus within a chivalric group culture that centred around the values of vigour and physical strength. Therefore the project investigates medieval warfare according to the methodological frameworks of Cultural Studies.
In his project "Dis/ability and Work In/capacity in Late Medieval Iceland" Heiko Hiltmann raises the question to what extent the social 'usefulness' and 'uselessness' of medieval Icelanders was determined by categories of physical 'ability' or 'disability'. Therefore the study will ask for the interdependencies between physical 'impairment' and work incapacity on the one hand and a person's social 'value' on the other. Of further interest are questions on challenges and life coping strategies of 'disabled' people in medieval Iceland. Main sources are the Icelandic sagas, especially the samtids-, and fortidssagaer, as well as Icelandic lawbooks from the 13th and 14th centuries.
News
Out soon: Dis/ability History der Vormoderne. Ein Handbuch / Premodern Dis/ability History. A Companion, eds. Cordula Nolte, Bianca Frohne, Uta Halle, Sonja Kerth (Affalterbach: Didymos, 2017).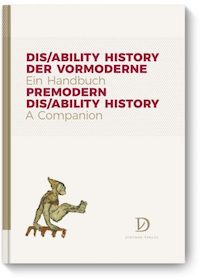 More
---
Workshop "Perspectives of Dis/ability History in an Interdisciplinary and International Context", 6th – 7th February 2016 (Delmenhorst, Hanse-Wissenschaftskolleg) More
---
Workshop "Images of Dis/ability". Disease, Disability & Medicine in Medieval Europe, 9th Annual Meeting, Bremen, 4th-6th Dec. 2015. More
---
New article: Swantje Köbsell: LeibEigenschaften - eine barrierefreie Ausstellung über den Umgang mit Beeinträchtigungen in der Vormoderne, in: Handbuch Behindertenrechtskonvention (2015). About our barrier-free exhibition on dis/ability history in Bremen, 2012.
---
New book: Bianca Frohne: Leben mit »kranckhait« Der gebrechliche Körper in der häuslichen Überlieferung des 15. und 16. Jahrhunderts Überlegungen zu einer Disability History der Vormoderne (Studien und Texte zur Geistes- und Sozialgeschichte des Mittelalters 9), Affalterbach 2014. More
---
Interdisziplinäres Ringseminar an der Universität Bremen: "Dis/ability History. Ein neuer Blick auf die Geschichte". Wintersemester 2014/15, Freitags von 10 – 12 Uhr, GW2, Raum B 2880. More
---
2014 Conference on Disease, Disability and Medicine in Medieval Europe: Infection and Long-Term Sickness. University of Nottingham, 6th/7th December 2014. More
---
Graduate Workshop on Medieval Disability, University of Nottingham, 5th December 2014. More
---
Workshop: "Dis/ability History in Dialogue with Literary Studies and Language History" hosted by PD Dr. Sonja Kerth and Dr. Heiko Hiltmann (University of Bremen). Gästehaus am Teerhof, October 10th/11th 2014. More
---
Workshop:"Dis/ability: Archaeology & Anthropology - Finds and Contexts"
hosted by Prof. Dr. Uta Halle (University of Bremen), Dr. Christina Lee (University of Nottingham), PD Dr. habil. Wolf-Rüdiger Teegen (LMU Munich). Hanse-Wissenschaftskolleg Delmenhorst, June 13th/14th, 2014. More
---
New: Phänomene der "Behinderung" im Alltag. Bausteine zu einer Disability History der Vormoderne, ed. Cordula Nolte (Studien und Texte zur Geistes- und Sozialgeschichte des Mittelalters 8) (Affalterbach: Didymos, 2013). More
---
Workshop "Dis/ability and Law in Pre-Modern Societies.
Intersections of Legal History and Dis/ability History" hosted by Prof. Dr. Cordula Nolte (University of Bremen) and Prof. Dr. Wendy Turner (Georgia Regents University, Augusta). University of Bremen, January 31st/February 1st, 2014. More
---
Workshop "Dis/ability History and Medicine. Terminology – Concepts – Models" hosted by Prof. Dr. Cordula Nolte (University of Bremen) and Prof. Dr. Dr. Ortrun Riha (University of Leipzig). Gästehaus Teerhof, September 16th/17th, 2013. More