Events
The Creative Unit "Homo debilis" aims on expanding and further developing its research network in order to establish an international, interdisciplinary centre for a Dis/ability History of pre-modern societies. Regular discussion and intensive exchange with external guests, fellows and young academics are essential features of our project. Students and interested members of the public are also invited to join us at our various meetings.
News
Out soon: Dis/ability History der Vormoderne. Ein Handbuch / Premodern Dis/ability History. A Companion, eds. Cordula Nolte, Bianca Frohne, Uta Halle, Sonja Kerth (Affalterbach: Didymos, 2017).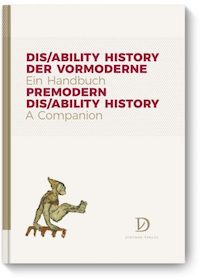 More
---
Workshop "Perspectives of Dis/ability History in an Interdisciplinary and International Context", 6th – 7th February 2016 (Delmenhorst, Hanse-Wissenschaftskolleg) More
---
Workshop "Images of Dis/ability". Disease, Disability & Medicine in Medieval Europe, 9th Annual Meeting, Bremen, 4th-6th Dec. 2015. More
---
New article: Swantje Köbsell: LeibEigenschaften - eine barrierefreie Ausstellung über den Umgang mit Beeinträchtigungen in der Vormoderne, in: Handbuch Behindertenrechtskonvention (2015). About our barrier-free exhibition on dis/ability history in Bremen, 2012.
---
New book: Bianca Frohne: Leben mit »kranckhait« Der gebrechliche Körper in der häuslichen Überlieferung des 15. und 16. Jahrhunderts Überlegungen zu einer Disability History der Vormoderne (Studien und Texte zur Geistes- und Sozialgeschichte des Mittelalters 9), Affalterbach 2014. More
---
Interdisziplinäres Ringseminar an der Universität Bremen: "Dis/ability History. Ein neuer Blick auf die Geschichte". Wintersemester 2014/15, Freitags von 10 – 12 Uhr, GW2, Raum B 2880. More
---
2014 Conference on Disease, Disability and Medicine in Medieval Europe: Infection and Long-Term Sickness. University of Nottingham, 6th/7th December 2014. More
---
Graduate Workshop on Medieval Disability, University of Nottingham, 5th December 2014. More
---
Workshop: "Dis/ability History in Dialogue with Literary Studies and Language History" hosted by PD Dr. Sonja Kerth and Dr. Heiko Hiltmann (University of Bremen). Gästehaus am Teerhof, October 10th/11th 2014. More
---
Workshop:"Dis/ability: Archaeology & Anthropology - Finds and Contexts"
hosted by Prof. Dr. Uta Halle (University of Bremen), Dr. Christina Lee (University of Nottingham), PD Dr. habil. Wolf-Rüdiger Teegen (LMU Munich). Hanse-Wissenschaftskolleg Delmenhorst, June 13th/14th, 2014. More
---
New: Phänomene der "Behinderung" im Alltag. Bausteine zu einer Disability History der Vormoderne, ed. Cordula Nolte (Studien und Texte zur Geistes- und Sozialgeschichte des Mittelalters 8) (Affalterbach: Didymos, 2013). More
---
Workshop "Dis/ability and Law in Pre-Modern Societies.
Intersections of Legal History and Dis/ability History" hosted by Prof. Dr. Cordula Nolte (University of Bremen) and Prof. Dr. Wendy Turner (Georgia Regents University, Augusta). University of Bremen, January 31st/February 1st, 2014. More
---
Workshop "Dis/ability History and Medicine. Terminology – Concepts – Models" hosted by Prof. Dr. Cordula Nolte (University of Bremen) and Prof. Dr. Dr. Ortrun Riha (University of Leipzig). Gästehaus Teerhof, September 16th/17th, 2013. More