Members of the research network "Homo debilis"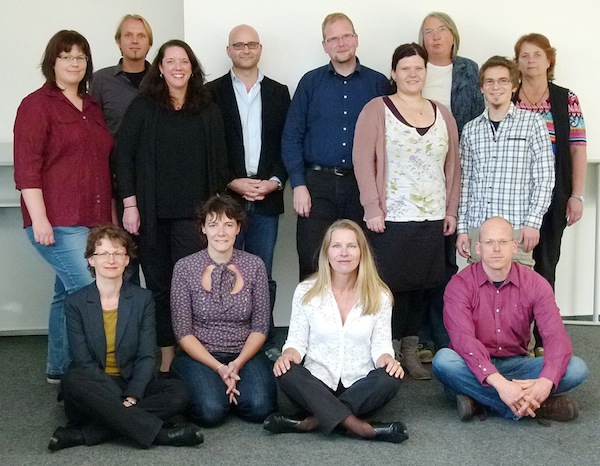 a) Members of the University of Bremen
b) Associated Members of our Research Group
Prof. Dr. Ruth von Bernuth, The University of North Carolina at Chapel Hill, Department of Germanic and Slavic Languages and Literatures
Dr. Daniel Blackie, University of Oulu, History of Science and Ideas programme. Also: Disability and Industrial Society Project
Dr. Elsbeth Bösl, Universität der Bundeswehr München
Ninon Dubourg, Laboratoire ICT (Identités, Cultures, Territoires), Université Paris VII Diderot
PD Dr. Ulf Christian Ewert, Westfälische Wilhelms-Universität Münster, Institut für Wirtschafts- und Sozialgeschichte
Prof. Dr. phil. Dr. rer. med. habil. Mariacarla Gadebusch Bondio, Director of the Institute for the History of Medicine, Universitätsklinikum Bonn
Dr. Philine Helas, Bibliotheca Hertziana Rom, Max-Planck-Institut für Kunstgeschichte
Prof. Dr. Marianne Hirschberg, Hochschule Bremen. University of Applied Sciences, Fakultät Gesellschaftswissenschaften (Gesundheit, Menschenrechte, Disability Studies, Inklusive Bildung)
Prof. Dr. Kay-Peter Jankrift, Technische Universität München, Institut für Geschichte und Ethik der Medizin; Institut für Geschichte der Medizin der Robert Bosch Stiftung
Dr. Anne Klein, Universität zu Köln, Humanwissenschaftliche Fakultät, Erziehungs- und Sozialwissenschaften – Politikwissenschaft, Bildungspolitik und politische Bildung
Prof. Dr. Swantje Köbsell, Alice Salomon Hochschule Berlin
Dr. Jenni Kuuliala, University of Tampere: School of Social Sciences and Humanities
Prof. Dr. Christian Laes, Universiteit Antwerpen, Departement Geschiedenis. Project "Disability History and the Ancient World (ca. 3000 BCE – 700 CE)"
Dr. Christina Lee, University of Nottingham, School of English Studies. Research Group "Disease, Disability & Medicine in Early Medieval Europe AD 400-1200"
Prof. Dr. Gabriele Lingelbach, Christian-Albrechts-Universität zu Kiel, Historisches Seminar, Neuere und Neueste Geschichte. Project "Menschen mit Behinderung in Deutschland nach 1945. Selbstbestimmung und Partizipation im deutsch-deutschen Vergleich: Ein Beitrag zur Disability History"
Dr. Irina Metzler, Wellcome Research Fellow in the History of Medicine (Swansea University, College of Arts and Humanities, Department of History/MEMO)
Dr. Janet Ravenscroft, Fellow of Queen Mary, University of London
Dr. Björn Reich, Humboldt-Universität zu Berlin, Institut für deutsche Literatur. Deutsche Literatur des späten Mittelalters und der Frühen Neuzeit
Prof. Dr. Olivier Richard], Université de Strasbourg, Faculté des Sciences Historiques, Institut d'Histoire du Moyen Âge
Prof. Dr. Dr. Ortrun Riha, Universität Leipzig, Karl-Sudhoff-Institut für Geschichte der Medizin und der Naturwissenschaften [director]
Prof. Dr. med. lic. phil. Iris Ritzmann, Universität Zürich, Institut für Biomedizinische Ethik und Medizingeschichte. Museum für medizinhistorische Bücher Muri
Dr. Patrick Schmidt, Universität Rostock, Historisches Institut
Dr. Patricia Skinner, University of Winchester
Friederike Stöhr (doctoral researcher, Universität Freiburg, Historisches Seminar, Spätmittelalterliche Geschichte/Aarhus Universitet)
PD Dr. Wolf-Rüdiger Teegen, Ludwig-Maximilians-Universität München, Institut für Vor- und Frühgeschichtliche Archäologie und Provinzialrömische Archäologie
Dr. David Turner, Swansea University, College of Arts and Humanities, History and Classics. Disability and Industrial Society Project
Prof. Dr. Wendy J. Turner, Augusta University, Department of History, Anthropology and Philosophy
Prof. Dr. Susi Ulrich-Bochsler, Universität Bern, Institut für Medizingeschichte
Prof. Dr. Christina Vanja, Landeswohlfahrtsverband Hessen, Fachbereich Archiv, Gedenkstätten, Historische Sammlungen [director]
Dr. Elisabeth Vavra, Institut für Realienkunde des Mittelalters und der frühen Neuzeit, Universität Salzburg [director]
Prof. Dr. Anne Waldschmidt, Universität zu Köln, Humanwissenschaftliche Fakultät, Professur für Soziologie und Politik der Rehabilitation, Disability Studies. Internationale Forschungsstelle Disability Studies [iDiS] [director]
Katharina Zisterer, Magistra in Pädagogik, Uderns (Zillertal). Research project: "Positives Stigma - Blicke auf Menschen mit Behinderung"
News
Out soon: Dis/ability History der Vormoderne. Ein Handbuch / Premodern Dis/ability History. A Companion, eds. Cordula Nolte, Bianca Frohne, Uta Halle, Sonja Kerth (Affalterbach: Didymos, 2017).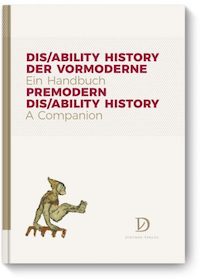 More
---
Workshop "Perspectives of Dis/ability History in an Interdisciplinary and International Context", 6th – 7th February 2016 (Delmenhorst, Hanse-Wissenschaftskolleg) More
---
Workshop "Images of Dis/ability". Disease, Disability & Medicine in Medieval Europe, 9th Annual Meeting, Bremen, 4th-6th Dec. 2015. More
---
New article: Swantje Köbsell: LeibEigenschaften - eine barrierefreie Ausstellung über den Umgang mit Beeinträchtigungen in der Vormoderne, in: Handbuch Behindertenrechtskonvention (2015). About our barrier-free exhibition on dis/ability history in Bremen, 2012.
---
New book: Bianca Frohne: Leben mit »kranckhait« Der gebrechliche Körper in der häuslichen Überlieferung des 15. und 16. Jahrhunderts Überlegungen zu einer Disability History der Vormoderne (Studien und Texte zur Geistes- und Sozialgeschichte des Mittelalters 9), Affalterbach 2014. More
---
Interdisziplinäres Ringseminar an der Universität Bremen: "Dis/ability History. Ein neuer Blick auf die Geschichte". Wintersemester 2014/15, Freitags von 10 – 12 Uhr, GW2, Raum B 2880. More
---
2014 Conference on Disease, Disability and Medicine in Medieval Europe: Infection and Long-Term Sickness. University of Nottingham, 6th/7th December 2014. More
---
Graduate Workshop on Medieval Disability, University of Nottingham, 5th December 2014. More
---
Workshop: "Dis/ability History in Dialogue with Literary Studies and Language History" hosted by PD Dr. Sonja Kerth and Dr. Heiko Hiltmann (University of Bremen). Gästehaus am Teerhof, October 10th/11th 2014. More
---
Workshop:"Dis/ability: Archaeology & Anthropology - Finds and Contexts"
hosted by Prof. Dr. Uta Halle (University of Bremen), Dr. Christina Lee (University of Nottingham), PD Dr. habil. Wolf-Rüdiger Teegen (LMU Munich). Hanse-Wissenschaftskolleg Delmenhorst, June 13th/14th, 2014. More
---
New: Phänomene der "Behinderung" im Alltag. Bausteine zu einer Disability History der Vormoderne, ed. Cordula Nolte (Studien und Texte zur Geistes- und Sozialgeschichte des Mittelalters 8) (Affalterbach: Didymos, 2013). More
---
Workshop "Dis/ability and Law in Pre-Modern Societies.
Intersections of Legal History and Dis/ability History" hosted by Prof. Dr. Cordula Nolte (University of Bremen) and Prof. Dr. Wendy Turner (Georgia Regents University, Augusta). University of Bremen, January 31st/February 1st, 2014. More
---
Workshop "Dis/ability History and Medicine. Terminology – Concepts – Models" hosted by Prof. Dr. Cordula Nolte (University of Bremen) and Prof. Dr. Dr. Ortrun Riha (University of Leipzig). Gästehaus Teerhof, September 16th/17th, 2013. More