Dis/ability History der Vormoderne. Ein Handbuch / Premodern Dis/ability History. A Companion, eds. Cordula Nolte, Bianca Frohne, Uta Halle, Sonja Kerth (Affalterbach: Didymos, 2017).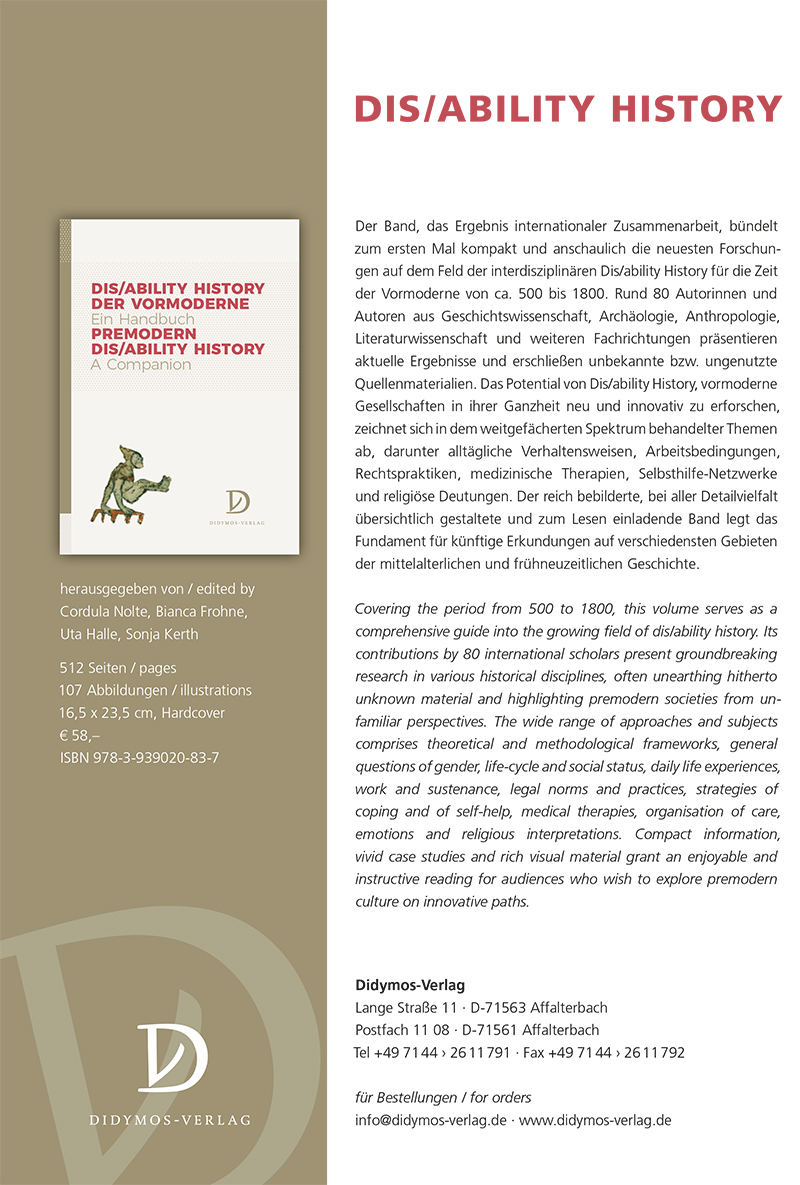 Since the turn of the century, dis/ability history has been established as a promising, international field of research that enables us to look at historical cultures and societies from a completely new point of view, based on the analytical category of dis/ability. The number of relevant projects and publications is growing, methods and topics are in constant development. At the same time, various intersections with different current approaches within historical scholarship and cultural studies emerge. The combination of these aspects turns the attention of the academia and the wider public to this new research perspective.
However, there is hardly any information available about the self-conception of dis/ability history, about its theories, methods and sources, and about its specific aims, subjects and leading questions. Whereas international dis/ability studies, which laid the groundwork for dis/ability history, have already put forth several handbooks, introductions and readers, dis/ability history is still in need of reference works wherein its basics are presented in a concise, readable, and systematic fashion.
This deficit is especially noticeable with regard to pre-modern dis/ability history, which is even more recent than modern dis/ability history, and where particular challenges have to be met, mainly due to the specifics of medieval and early modern sources. As there has been considerable output within a growing number of essays and edited volumes, but not often in form of monographs yet, it is quite difficult to keep track of research activities and to gain advanced insight into central fields of research.
This is where our handbook comes in. It addresses a diverse audience, including students and renowned scholars as well as interest groups, activists within the fields of politics, culture, education and social work who advocate empowerment and work towards social inclusion, as well as the general public with an interest in history.
The handbook aims to present the current state of research with regard to various disciplines, combining concise information with an accessible presentation based on primary sources and an arrangement of topics that captivates the reader's interest.
The handbook
values interdisciplinarity: topics will be addressed by various disciplines, especially history, literary studies and linguistics, archaeology, anthropology, art history, sociology, religious studies, and theology.
brings together international authors (about 80 contributors).
is based on primary sources throughout.
explicitly addresses controversies regarding different research tendencies and methodologies.
combines diachronic and synchronic perspectives, applying a perspective of longue durée whenever possible.
entails articles in English and German (the latter being accompanied by English summaries).
News
Out soon: Dis/ability History der Vormoderne. Ein Handbuch / Premodern Dis/ability History. A Companion, eds. Cordula Nolte, Bianca Frohne, Uta Halle, Sonja Kerth (Affalterbach: Didymos, 2017).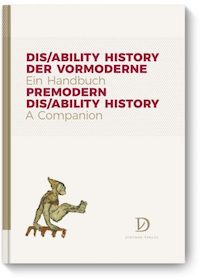 More
---
Workshop "Perspectives of Dis/ability History in an Interdisciplinary and International Context", 6th – 7th February 2016 (Delmenhorst, Hanse-Wissenschaftskolleg) More
---
Workshop "Images of Dis/ability". Disease, Disability & Medicine in Medieval Europe, 9th Annual Meeting, Bremen, 4th-6th Dec. 2015. More
---
New article: Swantje Köbsell: LeibEigenschaften - eine barrierefreie Ausstellung über den Umgang mit Beeinträchtigungen in der Vormoderne, in: Handbuch Behindertenrechtskonvention (2015). About our barrier-free exhibition on dis/ability history in Bremen, 2012.
---
New book: Bianca Frohne: Leben mit »kranckhait« Der gebrechliche Körper in der häuslichen Überlieferung des 15. und 16. Jahrhunderts Überlegungen zu einer Disability History der Vormoderne (Studien und Texte zur Geistes- und Sozialgeschichte des Mittelalters 9), Affalterbach 2014. More
---
Interdisziplinäres Ringseminar an der Universität Bremen: "Dis/ability History. Ein neuer Blick auf die Geschichte". Wintersemester 2014/15, Freitags von 10 – 12 Uhr, GW2, Raum B 2880. More
---
2014 Conference on Disease, Disability and Medicine in Medieval Europe: Infection and Long-Term Sickness. University of Nottingham, 6th/7th December 2014. More
---
Graduate Workshop on Medieval Disability, University of Nottingham, 5th December 2014. More
---
Workshop: "Dis/ability History in Dialogue with Literary Studies and Language History" hosted by PD Dr. Sonja Kerth and Dr. Heiko Hiltmann (University of Bremen). Gästehaus am Teerhof, October 10th/11th 2014. More
---
Workshop:"Dis/ability: Archaeology & Anthropology - Finds and Contexts"
hosted by Prof. Dr. Uta Halle (University of Bremen), Dr. Christina Lee (University of Nottingham), PD Dr. habil. Wolf-Rüdiger Teegen (LMU Munich). Hanse-Wissenschaftskolleg Delmenhorst, June 13th/14th, 2014. More
---
New: Phänomene der "Behinderung" im Alltag. Bausteine zu einer Disability History der Vormoderne, ed. Cordula Nolte (Studien und Texte zur Geistes- und Sozialgeschichte des Mittelalters 8) (Affalterbach: Didymos, 2013). More
---
Workshop "Dis/ability and Law in Pre-Modern Societies.
Intersections of Legal History and Dis/ability History" hosted by Prof. Dr. Cordula Nolte (University of Bremen) and Prof. Dr. Wendy Turner (Georgia Regents University, Augusta). University of Bremen, January 31st/February 1st, 2014. More
---
Workshop "Dis/ability History and Medicine. Terminology – Concepts – Models" hosted by Prof. Dr. Cordula Nolte (University of Bremen) and Prof. Dr. Dr. Ortrun Riha (University of Leipzig). Gästehaus Teerhof, September 16th/17th, 2013. More